Description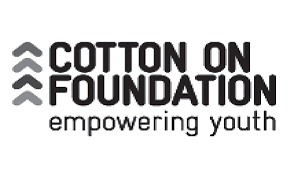 Cotton On Foundation (COF) is the philanthropic arm of the Australian retail company Cotton On Group and was officially established in 2007. The COF is passionately driven by our team to create sustainable change in the environment and lives of those in need. The COF has been working in Uganda since 2008, beginning with assistance to the village of Mannya. Work has expanded to Busibo and Namabaale villages, with potential that the Foundation will continue to work with additional villages in the future.
Cotton on Foundation Uganda was established and registered as a Not for Profit organization in June 2012. In March 2016, Cotton on Foundation Uganda was registered as a COFU limited by guarantee in line with the NGO Act 2016. Funding for COFU is provided through its home office in Australia.
Cotton on Foundation Uganda implements activities in 4 pillars namely; 1) Education, 2) Healthcare, 3) Infrastructure and, 4) Sustainability. Our purpose is action to inspire lasting positive change with limitless possibilities. Our goal is to mobilize and empower communities for creating lasting, positive change and opportunities for children and youth in Southern Uganda and, our vision is to empower youth, mobilize communities and build futures. We aim to develop 20,000 educational places in Southern Uganda by 2020.
POSITION PURPOSE
The Education Lead Mentor is responsible for leading a team of Education Mentors in creating a teaching and learning environment where teachers are creative, effective, and efficient and use locally available resources in their classrooms. Using the Teacher Mentoring Program and Literacy Enhancement the Education Lead Mentor will work with the COF Education team, Head Teachers and Teachers to ensure that learners are part and parcel of the teaching and learning process using locally available learning materials.
He or she must be conversant with Teacher education policies and have experience in developing school support mechanisms on learning and teaching components.
The Lead Education Mentor, together with the Education Mentors will be responsible for arranging and organizing workshops for classroom teachers and offer regular, consistent, hands on classroom support and monitoring in Early Grade Learning areas. Lead Mentor will provide content, pedagogical and relationship building support for other mentors. The Lead Education Mentor is to work closely with the Education Mentors in developing the teachers' capacities in handling the Early Grade Reading methodology in the classes of P1 to P4 following a capacity building Training of Trainers offered by COF partners like RTI/USAID and National Development Curriculum Center (NCDC). The Lead Education Mentor will directly supervise and support the Education mentors in their role of mentoring and coaching classroom teachers in the best practices of using the EGR methodology as the easiest way of helping learners improve their literacy skills. Lead Education Mentor is the main communicator of roles and responsibilities from Education Pillar manager and Head of Teacher Development to the education mentors. The Lead Education Mentor has the responsibility to collate and compile all reports and updates required by senior management for review by Head of Teacher Development.
OTHER DUTIES AND RESPONSIBILITIES
Management of a team of education mentors
Lead monthly meetings with the mentors to track the progress of the program, assess their accomplishments, challenges and give a way forward including lessons learnt.
Supervise education mentor activities in their schools of operation and offer necessary support where required
Plan with the education mentors when and how to conduct Continuous Professional Development activities.
Provide ongoing mentorship for the education mentors
Review work plans and monthly reports of the education mentors and participate in Education Team Catch up meetings as required.
Collaborate with the education mentors in providing necessary support for the head teachers and deputies in carrying out support supervision.
Ø  And any other duties assigned.
QUALIFICATIONS AND EXPERIENCE / BACKGROUND
Bachelor's degree qualification in Education. Master's degree is an added advantage
Qualification in Primary Education
Literacy program implementation, such as LARA/SHARP
Relationship building in an Educational Environment
Detailed and accurate reporting of performance and achievement
Designing and implementing programs and schedules
Strong organization and time management
Teacher development programs
Diverse knowledge in education programming and knowledge of education policies.
Excellent written English and computer skills
Dealings with high profile personnel.
Clear police criminal check – IS THIS REQUIRED
Current legal eligibility to live and work in Uganda.
OTHER SKILLS, KNOWLEDGE, ATTRIBUTES AND PERSONAL QUALITIES
Literacy expertise, local language (Luganda and Runyankore-Rukiga) and English
Excellent knowledge of teachers development programming in the rural areas of Uganda
Good interpersonal skills, high level of integrity and good moral conduct
Good conceptual and analytical skills
Self-directed and capable of working with minimum supervision
Ability to work within tight deadlines for proposal development / reporting
Strong commitment to Cotton On Foundation's cause and values
An open personality and acceptance of all races, creeds and cultures
>      Licensed, and willing, to travel by motor bike
SPECIAL REQUIREMENTS
Lead Education Mentors must live within the communities they serve. It is very important that Mentors can easily access public transportation from their homes to commute to the schools, meetings and any training held in the town center and surrounding areas.
Lead MENTOR REQUIREMENTS
Must be a classroom and Instructional Supporter. The purpose of this is to increase the quality, effectiveness, and implementation of classroom instruction under the Gradual Release Model.
Act as a facilitator for change in order to engage teachers in reflective thinking while looking at their own instructional practices critically and analytically.
Identify locally available resources in order to support the teachers and learners in the development of a variety of resources like flash cards, counting charts, literacy materials and use of readers to enhance classroom instruction and student achievement using locally available teaching and learning materials.
Share your personal experience as a Senior Teacher and leader to inspire Teachers efficiently and effectively.
Provide regular reporting highlighting successes, improvements, challenges and recommendations.
Mentors shall be contracted to allocated COF primary schools. The lead mentors shall follow up and visit mentors in all schools supported. During these visits and on the days when not in schools, the Lead mentor will also be responsible for planning, organising, developing and conducting teacher workshops to be held at the beginning/end of each term and/or during school holidays, and develop strategies for the COFU Education team to implement.;
>      Each teacher shall be exposed to mentorship at least three times per month by the mentor with each teacher having one hour per visit. There will be two Lead mentors, one per district, and each will supervise 03 education mentors. Relationship building and trust is paramount for teacher comfort, openness, reflection, sharing and collegiality. It's important for these mentors to remain and ultimately contribute emotionally and professionally to the improved wellbeing and performance of these teachers. During this period, the COFU HTD will observe, monitor and participate in both planning and classroom demonstration activities and comprehensively report on all areas of progress
WARNING: Do not to pay any money to get a job. Please report fraudulent jobs to info@everjobs.ug